Welcome to my  dyed textiles page.
I am passionate about colour and just love creating beautiful fabrics using silk, wool and cotton. Dyeing, painting, printing, stamping, shibori are just some ways that I explore fabric design using environmentally sustainable and safe practice.
Dyeing with fibre reactive and acid dyes provides me with a palette of beautiful colours from subtle pastels to bright vibrant colours.  Dyeing with indigo adds its own magic to the process.
Since moving to the Snowy region, I have been seduced by the magic of dyeing with local flora. Dyeing with plant material provides me with a very different palette.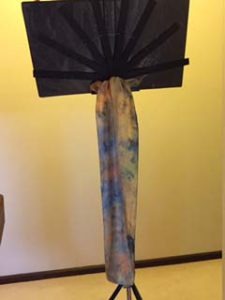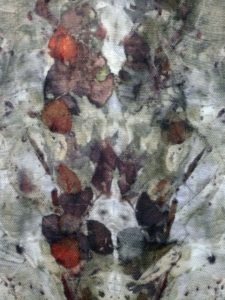 Local native plants provide a warm subdued palette and provide for a very tactile and meditative working environment as I work with bark, leaves and flowers of plants and at times soils.  I love the serendipity associated with using the same plant materials in different seasons and  weather conditions on differently textured wool, silk, bamboo, cotton.
This passion has now spilled over and channelled itself into my:
scarves,
ties,
fabric,
tea towels,
totes,
table decor,
prints on paper,
as well as my art quilts .
I create fashion accessories for both male and female and sometimes my pieces even have a different use.  View the Snowy Textiles Gallery page to see a sample of my work.
I create original, unique one of a kind silk, wool, silk and wool blend, and cotton pieces using either fibre reactive or natural dyes.  Many pieces are created using plant material from the local environment, material collected on travels in Australia or personalised by using plant material from a person's home environment.  Every piece is individually crafted using dyes extracted from plants or chemical dyes whilst implementing sustainable and environmentally conscious practices on natural fibres.
Have a special piece created to
accessorise your special outfit or decorate your home
record a special place or event e.g. your wedding, special birthday, anniversary or special event, by using plants from your home or a place that means something to you
Commissions  are very welcome. Please contact me at: handdyed@snowytextiles.com
Like me on Snowy Textiles on Facebook to be updated about where my work is available.

Save
Save
Save