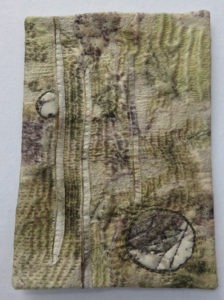 I decided to make a piece for the 2017 SAQA Trunk Show. I refer to this abstract piece as an improvisational study.  The guidelines stipulated the size of 10"x7". I had no idea what I wanted to create so again I decided to let the fabric speak to me and guide me.
I took out my stash of eco printed and naturally dyed fabrics and I auditioned the fabrics. I kept pulling out fabrics, looked at them, fondled them. I let serendipity take over.  It kept changing until finally I just had the little bits that came together and spoke to me. I then continued to play with placement until it felt right. I challenged myself to include a technique I haven't used for a while so I included a bit of trupunto. I also challenged myself to use more than one hand stitching stitch and to use machine stitching as well.   The stitching then took over. Again I just let the marks on the fabric lead me in my stitching. I didn't photograph it during the process because I was just so totally engrossed in it.
I called it Improvisation #2: Tranquility.
Why? Because piece to me evokes a sense of calmness and calmness and tranquility was what I felt as I created it. As I looked at it, it also was suggestive of a restive place as it seems to reference trees, shrubs, maybe a pond. Then from a side angle in particular a face appears with a dominant mouth.
I used silk fabric with marks created during natural dyeing and eco printing on fabric process. I collaged the piece and then used very dense machine quilting and handstitched using the stem stitch, chain stitch and running stitch. The printed marks on silk together with collaged pieces and stitching create movement and texture.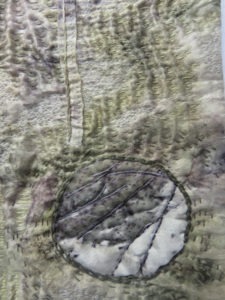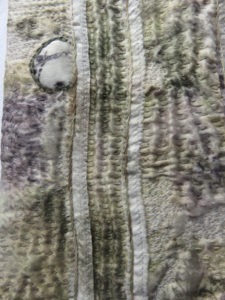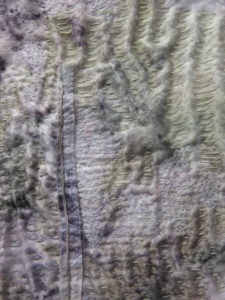 I thoroughly enjoyed creating it and it is part of a series I am working on using naturally dyed and ecoprinted fabrics.