Welcome to the ongoing SAQA Oceania Blog Hop 2016 featuring 16 of the 12″x 12″ art quilts created by members from the Oceania region – Australia, New Zealand, Brunei, Hong Kong and expats. This year 36 Oceania members contributed a piece that can be seen here in the Oceania Dream Collection.  SAQA (Studio Art Quilt Associates) has a Benefit Auction of art quilts every year to promote art quilts and fund raise to support the exposure of art quilts.
Today it is my turn to share the process of making the piece. My quilt is in the first section of quilts to be auctioned between September 19-25 after the auction kicks off on 16 September with Diamond Day when anyone can purchase any quilt in the entire collection for $1,000.   Each week, a different section of quilts will be available for bidding, starting at $750 and further reduced throughout the week.   You can see the first section of quilts here.   To learn how the auction works click here.  This is a beautiful opportunity to acquire beautiful, unique art quilts by some of the finest artists. There is something there for everyone.
My piece is IMPROVISATION: LOST in the MIST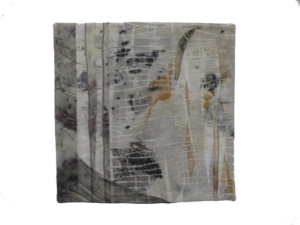 I refer to this abstract piece as an improvisational study.  I had no idea what I wanted to create so I decided to let the fabric speak to me and guide me. I took out my stash of eco printed and naturally dyed fabrics and I auditioned the fabrics. I kept pulling out fabrics, looked at them, fondled them. I let serendipity take over.  It kept changing until finally I just had the little bits that came together and spoke to me.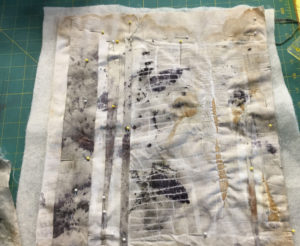 I then continued to play with placement until it felt right. Even after starting to stitch I kept changing it subtly.  It wasn't photographed  during the process because I was just so totally engrossed in it and forgot to take any pictures.
Ii is called  Improvisation: Lost in the Mist.  Why? Because the printed marks on cotton together with collaged strips evoke a sense of mystery with suggestive images of trees, or maybe a bird – stork or even a person lost in web of the mist.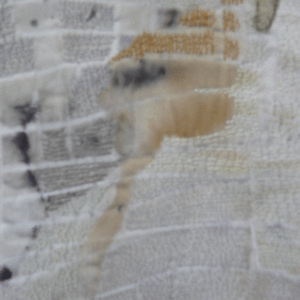 Cotton fabric with marks created when bundling for natural dyeing and eco printed cotton and silk fabric were used in the piece. I collaged the piece and then used very dense machine quilting and handstitched using the stem stitch.
I thoroughly enjoyed creating it and it is part of a series I am working on using naturally dyed and ecoprinted fabrics. This is taking me in a new direction. It is totally different to my winter series piece which I submitted to the SAQA Benefit auction in 2014 that you can see here.
If you missed the earlier blogs click here to see the links.
Don't forget that coming up next are:
To view all the Benefit Auction quilts click here.  Go and view the dream collections here that members have put together to inspire collectors and to see how they can be put together.  Maybe there is room in your home for one or two of the stunning 437 quilts being auctioned.
Finally, I must put in a plug for SAQA.  If you are an art quilter take some time to consider joining SAQA (Studio Art Quilt Associates).  It offers so many exhibition, network and mentoring opportunities for its members. By adding the discount code "WKS " to the form and my name (Rasa Mauragis) in the referral field and you will receive a 10% discount on your first year's membership fee.  If you live in th Oceania region, as one of two Oceania reps,  I would love to talk to you about the organisation.