Welcome to the Oceania Collection Blog Hop!
SAQA [Studio Art Quilt Associates] has an auction of art quilts every year and this year the Oceania members contributed
32 pieces to the collection.  A full list of participating artists is on the main SAQA Oceania Blog.  I am very happy to share the process for making my contribution  for the SAQA Auction.  I am also very humbled and excited that this quilt is one of a number selected for the live SAQA auction at Houston International Quilt Festival.
Winter#4 is the title of the 12″square quilt I created.  This quilt is the third in a series in response to a postcard and my own experiences of winter in the snow.  Whilst I work on a piece the what if question is my constant companion.  In the case of this series it has been an ongoing nagging question that has stayed with me since completion of Winter#2 and #3.  By now the what if  was focusing on the sky reference in the piece which I had stitched horizontally in Winter#2.  Consequently there was a vertical texture in this section of the piece that keeps niggling me everytime I look at it hanging in my studio.  I had decided to do another piece and then the SAQA auction came up. So I drew up a basic 15″ square orientation sketch for the piece.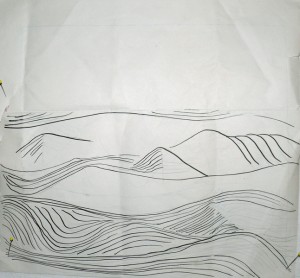 I then auditioned fabrics.  It wasn't coming together until I came across a silver grey serviette.  When I tested it I liked the way it opened up and I liked the way I could use fragments of it, if I needed to, but have not in this piece.  After piecing the background I started stitching the sky reference with running stitch going in a vertical not horizontal direction.  I could not relax with the stitching until I could see the horizontal texture emerge.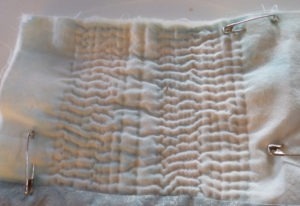 It didn't feel right as I sewed but I persevered and it worked.  At this point I was so glad that I had started with a 15″square.  I knew that running stitch draws up the fabric, from my previous works, but I had at one stage considered stating a little smaller than 15″ square.
Once the sky reference was stitched it was time to audition the fabrics that were to be added to represent trees.  I started with one element.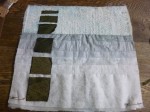 Then I added the components of the second  element.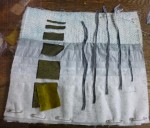 It was then time to put down some contour lines with running stitch and recheck the placement of the skeletal trees.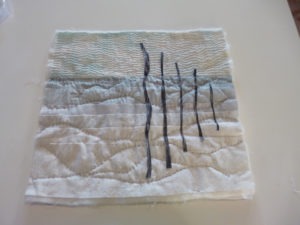 As I worked I was thinking of Antony Gormley's figures "Inside Australia"' that we had seen in our travels in the west.  I realised when working on Winter #2 that my simplification of trees was in a way being influenced by Gormley's deconstructive approach to the human form.
I then continued with the running stitch until it was all done. All the running stitch was done with DMC threads – mainly variegated  of various shades.  I attached the components of the second element by machine then hand stitched the first element with a loose form of fly stitch.
Having finished the stitching I squared up the quilt and and added a facing rather than a binding to the quilt.  At that stage I had to go back over the notes I had kept from various quilters on how to add a facing.  A sleeve and a printed label put the finishing touches to my piece.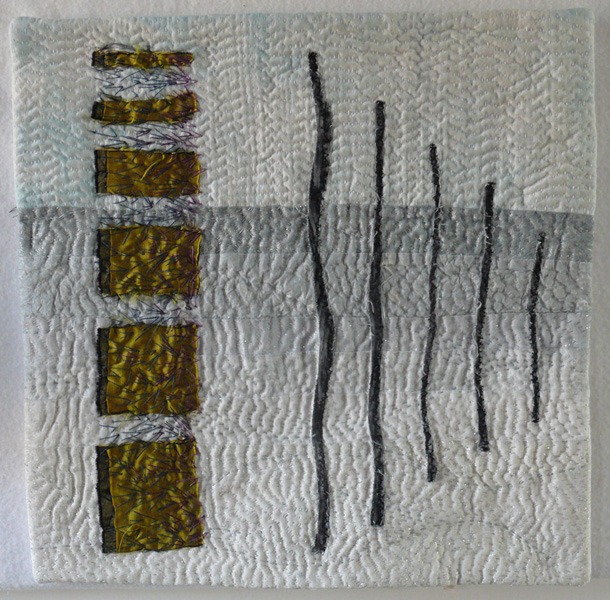 I hope you like my piece Winter #4.  My current what if is pushing me towards trying to make a large quilt building on what I have done so far.  Another side of me is saying move on.  To see my Winter series click here.
I trust you are enjoying the blog hop and please check out Alison Schwabe's contribution on 5 August and Maggie Gilbert on 7 August.